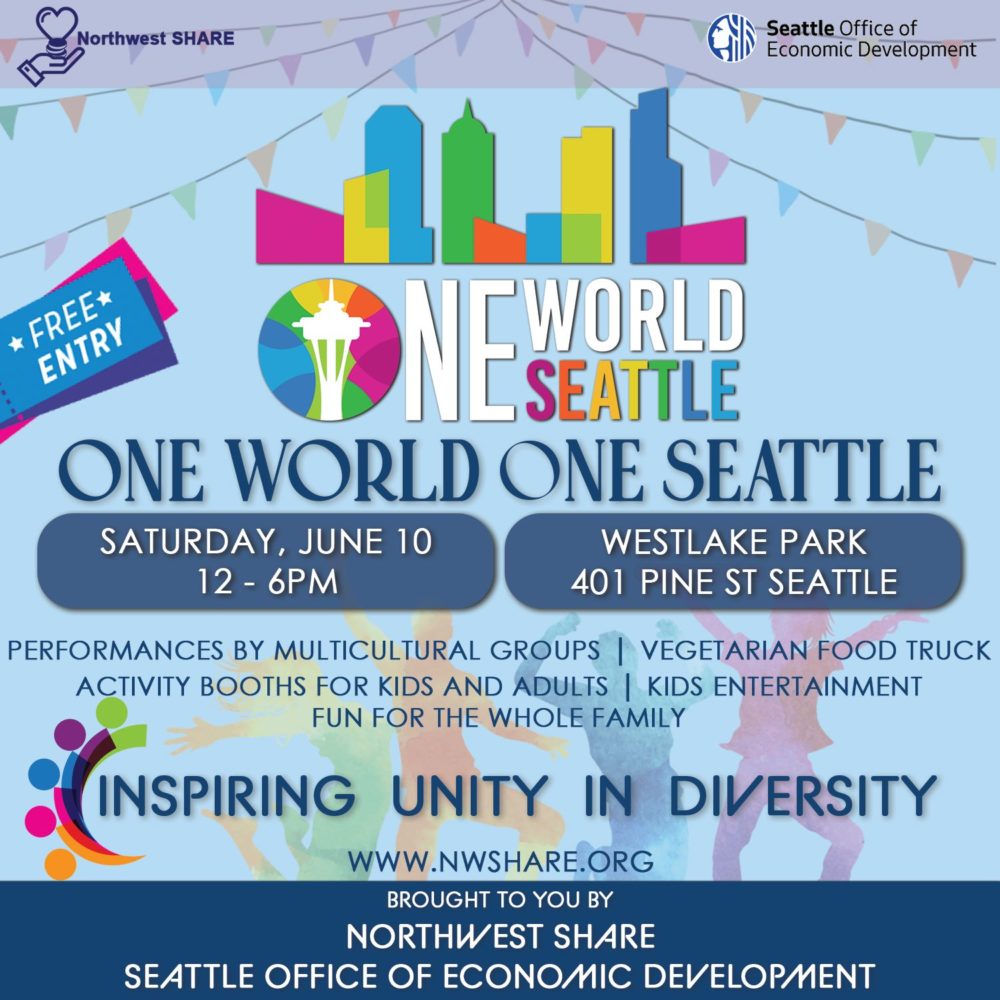 New Summer Event Celebrates Seattle's Multicultural Community & Inspires Unity in Diversity
Saturday, June 10th, noon-6 p.m., Westlake Park, Seattle WA 98101
NorthWest Share presents the first-ever One World  One Seattle daylong multicultural festival to be held in downtown  Seattle's Westlake Park, Saturday, June 10th from noon to 6 pm. Co-sponsored by the Seattle Office of Economic Development, the free and family-friendly festival features an exciting and diverse lineup of music and dance performances, dance workshops and interactive cultural activities.
The festival represents NorthWest Share's mission to serve the community through arts and culture, multicultural traditions and creating prosperity through sharing. The nonprofit is known for its popular cultural events and festivals, including the Festival of Color, Diwali: Lights of India, Festival of Compassion and Vegetarian/Vegan/Raw Food Festival.
One World One Seattle festival will feature nine separate musical and dance performances by multicultural musicians and artists, dance workshops, hands-on activity booths, a vegetarian food truck, and many other exciting attractions.  Participants of the interactive booths will leave with free takeaways. Booths will include creating flower garlands, spice blends and geometric gummies.
The family friendly arts and cultural festival will have something for everyone.
Organizer: Northwest Share
Co-Sponsor: Seattle Office of Economic Development
What: One World One Seattle
Nine musical and dance performances by multicultural groups (see list below)
A vegetarian food truck
Hands on activity booths with arts and crafts suitable for kids and adults
Many more exciting attractions

Aerial Act by

Vivian Tam

Aerialist & Show Pony

Artistic Director of Chrysalis Circus
When: Saturday, June 10, 2023
Where: Westlake Park, 401 Pine St, Seattle WA 98101
Cost: FREE
Performance Schedule:
Noon - 12:15 p.m. - Northwest Kung Fu and Fitness / Lion Dance
12:20 - 12:45 p.m. - Inochi Taiko / Taiko drumming ensemble
12:50 - 1:35 p.m. - Herencias Mexicanas / Mexican folkloric dance group
1:40 - 2:10 p.m. - Huraiti Mana / Tahitian and Hula dance and workshop
2:15 - 3:15 p.m. - Show Brazil / Brazilian traditional and contemporary music and dance
3:20 - 4:05 p.m. - La Clave Cubana Dance Studio / Afro-Caribbean roots of Latin salsa dance and workshop
4:10 - 4:25 p.m. - Beats of Redmond / Traditional drumming of India
4:30 – 5:00 p.m. - Massive Monkees / Hip Hop
5:05 – 6:00 p.m. - Analog Catalog / Classic rock/Beatles